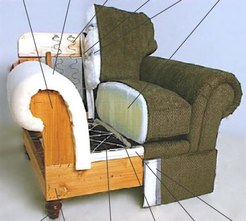 Mid Foam (

1.8 Density) -

A medium quality high density foam. Available in soft, medium and firm.

Ultra Foam (

2.6 Density) -

100% Virgin.Urethane. The best 2.6 density urethane foam on the market. Fire retardant. Passes California Tec. Bul. 117. Available in soft, medium, firm and extra firm.

Novus Medium Soy Foam (

2.5 Density) -

Go Green. The new foam that uses renewable raw material alongside of traditional petrochemicals.

Polyfoam (

1.2 Density) -

Standard grade urethane.

Super Soft (

1.5 Density) -

Used for back cushions.

UC18 Soft (

1.8 Density) -

High resiliency super soft foam. Very soft but resist bottoming out.

Rebond Foam -

Used for very firm applications. Church kneelers.

Eva Dry -

Open cell foam for outdoor cushions. The water runs through it when used textline fabric.

Closed Cell - Micro cell-closed cell crossliked polyolefin foam. 2lb density. Extra firm.

MicroCell exibits a smooth surface and an extremely fine and uniform cell structure. Microcell offers excellent flexibility and resilience. Fire retardant.

EZ Dri Foam -

EZ Dri polyeurethane foam outdoor cushions dry almost immediately after exposure to rain, salt spray, melting snow, morning dew, washing, or other forms of moisture and humidity. Large, open pores permit maximum water drainage and air circulation, allowing use quickly after being wet or even saturated. EZ DRi outdoor cushioning materials offer the best of worlds long lasting wear and comfort combined with extremely fast drying properties. EZ Dri foam available in soft, medium and firm.

Bean Bag Pellets

Pre-Puff (10 cubic ft.bag)

Cloth Backed Sew Foam (1.5 Density) -

Used in Automotive restoration.

Charcoal Foam - Hard back foam used in packaging.
Visco Memory Foam , Custom Foam Mattresses, Sofa Bed Innerspring Mattress, Latex Foam, Dacron, Sewn Polywrap, Custom Down & Feather and Spring Cushions, and more!
​​